So im finally starting to feel like a legitimate blogger because bands are sending me stuff. Pretty cool. PS any bands that want to send me stuff get way bonus points/huge ups in getting posted. just fyi.
Today Chewy Chocolate Cookies, AC, and Black Moth Super Rainbow sent me some new stuff to rep. CCC Remixed Busy P's Pedrophilia, and its pretty typical of their style. Sorta glitchy, but very dancehall. Sample for yourself.
Busy P - Pedrophilia (CCC Remix)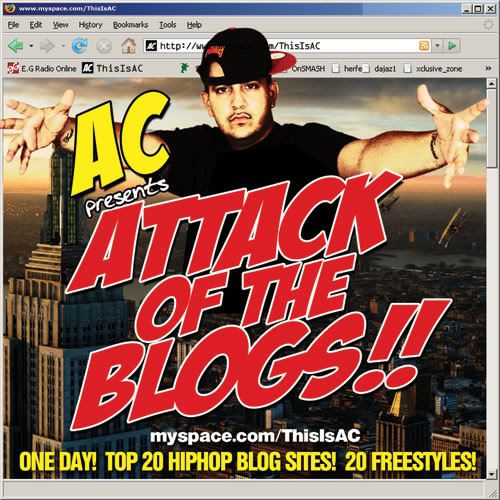 Ok next up is AC. Remeber how he did
Attack of the Blogs
? He decided to keep the same sorta publicity and make it into a mixtape. Its got a grand total of 27 tracks. Yea, 27. Pretty sweet. Its also mad good, so it made me pretty excited. Hopefully youll feel the same.

AC - Attack of the Blogs Mixtape
Black Moth Super Rainbow is going to release a) an album and b) a cd of stuff that didnt make it to the album. Im assuming the only difference between the two is the price and how much they promote it. So basically theyre releasing two albums. Sweet. If thats not enough, they also put out a free outtakes EP sorta thing (basically a collection of tracks they didnt finish, didnt decide to let see the light of day, and other cool stuff like that). I, of course, have a link for ya.
Black Moth Super Rainbow - Bonus Drippers (YSI)
Black Moth Super Rainbow - Bonus Drippers (Sendspace)
Ok i think im going to cut myself off for now
Enjoy hombres