Ive got a new act for ya,
discoRUIDO!
. They are a mexican rock band. Something about mexican underground music just has me recently. Thats not to say the track isnt great, its just not what i typically throw up for you guys. Check it out.
discoRUIDO! - Mrs. Love (
YSI
) (
zShare
)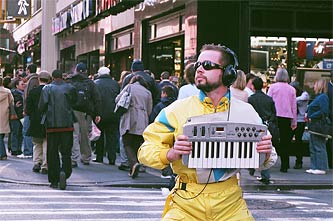 If your techno fix hasnt been satisfied,
The Polish Ambassador
has just hit me up with a remix of Don't stop the Music by Rihanna. Check his blurb:
"Every so often there comes a battle fought for reasons of...battle fighting, a test of strength showcased simply for the sake of spectacle. Through it, ideas are dismantled. Fears are shaken. Platitudes are stirred and sheer randomness guides life in a new direction. In today's contest, pop superstar Rihanna is pitted against indie electro entity, The Polish Ambassador; a virtual David and Goliath scenario. The ambassador strikes first, unleashing a sexy, electro, eighty's vibe so hot it scorches Rihanna's satin panties clean off. It's no doubt Rihanna is shaken. The ambassador establishes early on he is not to be taken lightly. Rihanna counters with a monstrous blow of her own, the smash hit vocals of her pop classic Please Don't Stop the Music. The battle continues, back and forth, back and forth. Polish and Rihanna tussle and tangle fusing together this track. By nightfall, there is only one clear winner. Yes, my darling.... It is you. Free download for all! You did it! Great job. "
Guy cracks me up. Grab the track here
Rihanna - Please Don't Stop the Music (The Polish Ambassador Remix) (
YSI
)(
zShare
)